With medical courses gaining popularity very rapidly, Ukraine is becoming one of the most preferred destinations for studying MBBS. A degree of MBBS in Ukraine along with the best knowledge will definitely help in chasing your dreams. Getting admission in a medical university in Ukraine is very easy. The applicants are not required to take any exam like TOEFL or IELTS. For admission in MBBS in Ukraine, the students shall complete the age of 17 years on or before 31st December of the year of admission.
Want to study mbbs in Ukraine?
Why Study MBBS in Ukraine
These are some of the most important reasons to choose Ukraine as your study destination
Quality Education

Affordable and Advanced Learning

FMGE/NExT Coaching

Bilingual Medium of Instruction

A warm and welcoming culture

Weather conditions similar to North-Indian regions

Globally Recognized Courses (WHO, UNESCO, EUROPEAN COUNCIL).

Cost-effective

European Life Standard

Worldwide Acceptance of Ukrainian Method of Teaching

Completely safe for students
Want to study mbbs in Ukraine?
What are the major courses for MBBS in Ukraine?
As per the Medical Council of India, studying MBBS in Ukraine comprises of two separate bachelor's degrees:
Bachelor of Medicine

Bachelor of Surgery
The bachelor's degree is enough to make the aspirant eligible to carry on with their medical career. MBBS in Ukraine gives students a general exposure towards:
Human anatomy

Medicine

Pharmaceutical chemistry

Human Cytology

Formulation of drugs

Method of surgery etc.
What is the Course Duration and Skills Required when you study MBBS in Ukraine?
5 years of academic education along with a year internship contributes to making the overall duration of the course 6 years. It is one of the most sought-after courses after Higher Secondary for those interested to serve in the healthcare department. 
Students who have cleared Higher Secondary Examination with a good percentage in Physics, Chemistry, and Biology may opt for MBBS in Ukraine. It is the course that provides hands-on training regarding the best way to get to know the root cause of disease. Skills required to build a golden through study MBBS in Ukraine include:
Ability to work in a team

Good stamina

Responsible attitude

Patience and compassion 

Mental alertness
For getting admission in MBBS in Ukraine you need to:
Score minimum 50% marks in 10+2 education with Physics, Chemistry & Biology

Age must be between 17-25 years

A good score in NEET Examination
How to make a visa Application to be Made by MBBS Students?
If you are planning to pursue your MBBS in Ukraine, it is essential to apply for a Visa. It is easy to obtain a student Visa to Ukraine through an interview session at an embassy. There are many agencies in India that ensure 100% guarantee in terms of obtaining a Ukraine student Visa. Some important documents required for study MBBS in Ukraine student Visa application are;
Invitation letter issued by the Ministry of Education, Ukraine.

Original Passport (min 2 years validity)

10th level mark sheet.

10+2 Level mark sheet

Birth Certificate (In English).

Medical Certificate and HIV Certificate.

Students bank statement (with minimum Rs. 4 Lacs bank balance).

Parents Bank statement (min 6 months).

School / college leaving/transfer certificate.

Identical photographs (50 mm X 50 mm) – 10 Numbers

Affidavit certificate (Format available online)

Gap certificate for those students who had passed 12th Level in earlier years.
MBBS in ukraine for Indian students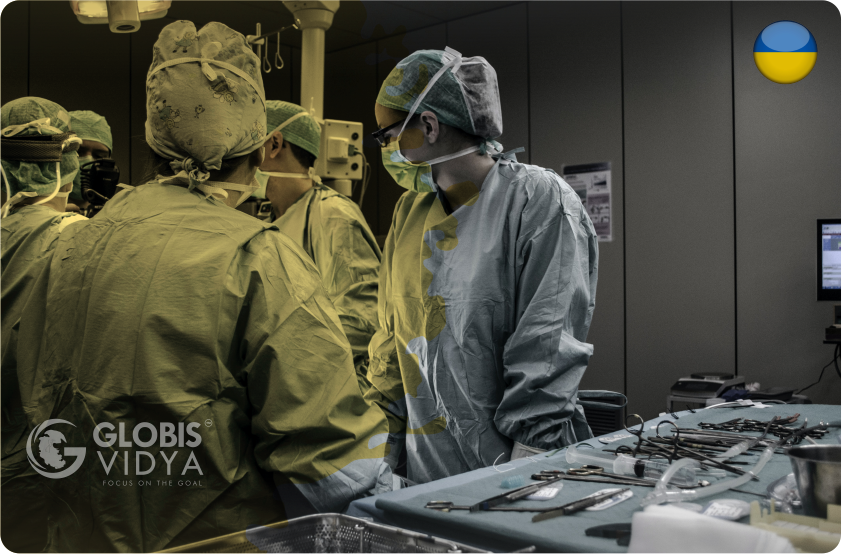 Ukraine is the most preferred country for Indian students to study MBBS abroad. The environment is completely safe and student-friendly. The students who fulfill all the requirements for the application process can easily apply for studying in Ukraine. Students are not required to clear any entrance exam to get admission but they must have a valid NEET score. 
Want to study mbbs in Ukraine?
Cost of study for MBBS in ukraine
The cost of studying MBBS is quite low as compared to Indian medical colleges. The total cost for MBBS for six years in Ukraine is about 16.25 Lacs. The fee split in Ukraine is as follows:
| | |
| --- | --- |
| Particulars | Costs |
| Tuition Fees | $3900/Year |
| Hostel Fees | $500/Year |
| Total Fees | $4400/Year |
You can pay the tuition fee directly to the University account and can be paid in two instalments that are semester wise. There is no donation or any hidden fee or charge to get admission in Ukrainian medical colleges. The other expenses such as food, accommodation, and transport are as follows
| | | |
| --- | --- | --- |
| Expenses | Monthly Cost (In INR) | Yearly Cost (In INR) |
| Food | 10,380 | 124,560 |
| Rent | 16,088 | 193,053 |
| Electricity & Gas | 1,112 | 13,350 |
| Water | 1,320 | 15,840 |
| Books | 147 | 588 |
| TV Cable | 380 | 4,450 |
| Public Transport | 750 | 8,900 |
Want to study mbbs in Ukraine?
Fees Structure of universities in ukraine
| | |
| --- | --- |
| Name of the University | Total Course Fee |
| Kyiv Medical University |           21,08,002 |
| Dnepropetrovsk State Medical Academy |           22,30,044 |
| Vinnitsa National Medical University |           26,03,568 |
| Kyiv Medical University, Kyiv Campus |           5,58,435 |
| Ivano Frankivsk Medical University |           23,52,087 |
| Kharkiv International Medical University |           24,26,052 |
| Zaporizhzhia State Medical University |           26,25,757 |
| V. N. Karazin Kharkiv National University |           5,69,530 |
| O.O. Bogomolets National Medical University |           26,10,964 |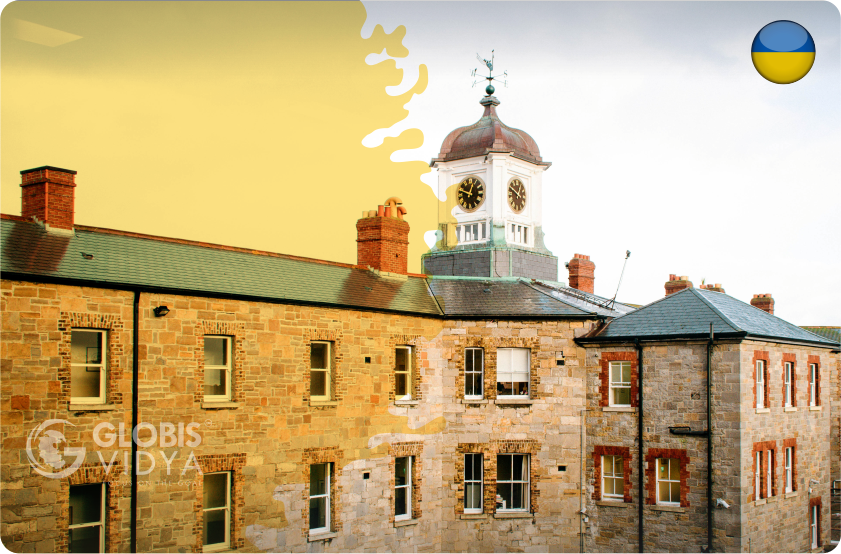 Want to study mbbs in Ukraine?
Advantages of MBBS in ukraine
Studying MBBS in Ukraine provides you with various benefits and great opportunities. 
High standard of education:

The medical courses in Ukraine are perceived by WHO, UNESCO, and the European Council. The language of communication is English so that the students won't face any problems. You don't need to give any exam to prove your English proficiency. The medical colleges in Ukraine have an elite infrastructure and exceptionally qualified teaching staff.
Cheaper Education:

The fee of medical colleges is very low as compared to other countries. No donation or extra cost is needed. You will get a high-class education at a low price. An MBBS degree from the best Ukraine College helps you in building a great career.
Low-cost living:

Compared to other international destinations, the cost of living is significantly low in Ukraine. You can live in Ukraine very comfortably at affordable costs. The cheapest cities are Dnipropetrovsk, Lviv, Poltava, and Ivano-Frankivsk. The expensive cities are Kyiv and Odesa.
World-class infrastructure:

Ukraine is a beautiful country with eye-appealing beauty, loaded with positive vibes, and extremely secure. The infrastructure of Ukrainian universities is exceptionally beautiful. Everything there is well-structured and secure.
Want to study mbbs in Ukraine?
The syllabus of MBBS in Ukraine is generically divided into three parts just like it's in India:  Theoretical or Pre-clinical, Para-clinical, and Clinical Education.
The total course duration is 5.8 years which includes one year of Internship. I, II & III years are for the theoretical studies with 20% clinical part whereas the rest of the term has 80 % of clinical practice, hospital visits, and practicals. The course language is English for the Indian students and batches are created in a group of 15-16 students so that they can understand the subjects well. This is applicable to almost all the MCI approved and renowned universities in Ukraine.
After the third year, the course classes will be held at various hospitals and clinics which are affiliated with the university. This increases the clinical exposure and more and more practical knowledge for the students. After the third Year, KROK 1 exam will be held and after the course completion, students would have to appear for the KROK-2.
Year

Subjects

1st Year

Foreign Language, Latin Language and Medical Terminology, Ukrainian Language (for professional purposes), History of Ukraine, History of Ukrainian Culture, History of Medicine, Fundamentals of Psychology, Fundamentals of Pedagogics, Medical Biology, Medical Chemistry, Biological and Bio-organic Chemistry, Human Anatomy, Histology, Cytology, Embryology, Physical Training, Politology, Medical and Biological Physics, Elective Courses

2nd Year

Foreign Language, Philosophy, Human Anatomy, Histology, Cytology, Embryology, Physiology, Biological and Bio-organic Chemistry, Microbiology, Virology, and Immunology, General Surgery (with Operative Surgery and Topographical Anatomy), Medical Computer Science, Patient's care (practical training), Emergency Medicine, Personal and Social Safety, Fundamentals of Occupational Health and Safety, Physical Training

3rd Year

Microbiology, Virology and Immunology, Pathomorphology, Pathophysiology, Pharmacology, Hygiene and ecology, Propaedeutic of internal medicine, Propaedeutic of Paediatrics, General Surgery (with Operative Surgery and Topographical Anatomy), Radiology, Nurse Practice, Fundamentals of bioethics and Biosafety, Physical Training/Foreign Language

4th Year

Internal Medicine, Tuberculosis, Pediatrics,

Surgery, Obstetrics and Gynaecology, Social medicine, health care system organisation, Biostatistics, Urology, Otolaryngology, Ophthalmology, Neurology, Medical Psychology, Psychiatry, narcology, Dermatology, venereology, Physical rehabilitation and sports, Forensic Medicine, Medical legislation, Medical science of law, Civil protection, Medicine of extraordinary situation

5th Year

Internal Medicine, Infectious Diseases, Epidemiology, Professional diseases, Oncology, Clinical pharmacology, Paediatrics, children infectious diseases, Medical Genetics, Social medicine, organization of Public Health Services, Surgery, children's surgery, Traumatology and Orthopaedics, Obstetrics and Gynaecology, Clinical Immunology and Allergology, Anesthesiology and Intensive Therapy, Radiation Medicine, Neurosurgery, Fundamentals of Dentistry, Dissection Course, Emergency Medical Help

6th Year

Pediatrics, children infectious diseases, surgery, children's surgery and Oncology, Obstetrics and Gynaecology, General Practice (Family medicine), Hygiene and Ecology, Social Medicine, Organisation and Economics of Public Health Service, Optional Courses, Oncology
Want to study mbbs in Ukraine?
Admission Process for MBBS in Ukraine
The student must be 17 years old before the admission session gets started; the admission forms will start from January, and the candidate must have finished 10+2 with Biology, Chemistry, Physics, and English with the lowest scoring of 60% Students will not get admitted if they had below 60% in 10+2 board and which should be from the approved board in addition to that student must have all the documents as mentioned in this article. No donation or headcount is required in the admission process any IELTS/TOEFL is required; only the NEET examination is a must. The steps are mentioned below as follows:

Step 1: The first step will be for students to download the application form from the particular university's website and fill in the information as asked in the form with all the correct points of interest and applicant data which course he/they wants to pursue.

Step 2: After filling out the application form, the student will receive an acceptance letter from the particular university

Step 3: After receiving an admission letter, the student has to submit his passport copy academic documents like X- & XII-mark sheets (educational certificates), Birth Certificate, NEET scorecard, and Passport size photographs, admit cards attested from Kazakhstan High Commission, Delhi

Step 4: Then, the agency will apply for a student visa in the Embassy of Kazakhstan in Delhi. The Embassy might call the student to interview them. Students will have to apply for a 'Visa Invitation letter', then for which, you require the following: Passport Medical Fitness Certificate HIV Report Passport size photographs with white background.

Step 5: stamping a visa is almost the last process. Once the visa is stamped for the confirmed traveling date, the agency will inform the candidate.

Step 6: the student must follow all the airport guidelines. Officials will receive the student upon arrival at the airport, Once the student reaches Kazakhstan and the university.

Step 7: for students, there will be accommodation and food in the university's hostel.

Step 8: Students will join the MBBS course by paying the balance amount of the tuition fee to the international student department
Want to study mbbs in Ukraine?
Scholarship offered to students for MBBS in ukraine
There are many scholarships provided to students who wish to study MBBS in Ukraine. Some of them are:
The fees at Government Universities in Ukraine is reduced up to 40% for national as well as international students so the government does not provide any other funding. 
Ukrainian Medical Education Centre (UMEC) offers financial aid or scholarships to talented students after the first year. Students are offered scholarships up to 20% of their tuition fees or 1000 USD. The scholarships offered are extremely competitive and are based entirely on the merit of the student.
Reference-based Scholarship
UMEC also cuts down part of the fees for students who refer at least 2 or 5 students for medical education in Ukraine. UMEC waives the full fee for students who refer more than 5 students. This is applicable only if these referred students are considered eligible as per the UMEC standards.
There are also some other scholarship programs that are offered by international agencies to promote students to apply for studying abroad. There are some international exams for which students have to apply to get funds. 
 World Endeavours Filipino-American Study Abroad Scholarship by World Endeavours: $1,500

SAS – Financial Need Grant by Semester at Sea: $500 to $10,000

Diversity Abroad Overseas Ambassador Scholarship By Diversity Abroad: $500 (5 awards for fall and 5 awards for spring)

StudyPortals Study Abroad Scholarship By StudyPortals: 1000 Euros
Want to study mbbs in Ukraine?
Top Universities in ukraine with ranking
Below are the top 10 medical universities of Ukraine:
| | |
| --- | --- |
|                     University | Ranking in Ukraine |
| Bogomolets National Medical University |         1 |
| Bukovinian Statw Medical University |           2 |
| Crimea State Medical University |           3 |
| Danylo Halytskyi Lviv National Medical University |           4 |
| Ivano-Frankivsk National Medical University |           5 |
| Kharkiv Medical Academy of Postgraduate Education |           6 |
| Kyiv Medical University UAFM |           7 |
| National Piragov Memorial Medical University |           8 |
| National University of Pharmacy |           9 |
| Ternopil National Medical University |         10 |
MBBS in ukraine Vs MBBS in India
| | |
| --- | --- |
| MBBS IN UKRAINE | MBBS IN INDIA |
| No entrance test required, NEET score valid | Good grades in 10+2 with PCB, valid NEET score |
| Students can easily get admission | Less admission beacuse of tough competition |
| Total cost is affordable | Total cost is quite expensive |
| Students will get international exposure | No international exposure |
| More working and learning opportunities | Limited opportunities |
Want to study mbbs in Ukraine?
Want to study mbbs in Ukraine?